What's up, everybody? This is Charlie from Charisma on Command, and today I have something a little bit different for you. It's of a flirting technique that is called "Push-pull." Now, this is not the only flirting technique. You don't even have to use it, but I suspect that if you keep your eyes open, you'll start to see it all the time, and the idea is this: Most men, when they enter in sort of a flirting conversation, have one of two strategies, the first is just lavish compliments on the woman, and the second is to be very teasing and joking and trying to get her to laugh a lot.
Now, the truth is, neither of these is excellent on its own, but when you combine elements of each, when you combine a compliment with a joke that releases the tension from that compliment, you're left with something very powerful. So, let's just jump right into it now to see an example with Russell Brand. And so, that is a really, really classic "push-pull," right? Compliment there; he sort of baits the compliment, gives her the compliment, and then, builds that tension for just a second and then sort of deflates it, going just a bit rude, cracking a joke at himself. Now, a lot of people think the pushes have to be, you know, a real push, like very aggressive.
It sounds more than that. Really, what a push does is it just kind of takes away that tension that is built by the compliment, and allows you to move on. If Russell had just sat there, it might have been a bit awkward, but by doing that, creating the laughter, he allows for a comfortable segue into non-straight up complimentary conversation. So real quick, we can watch it again. See?
She's a bit like, doesn't know what to say, and then, he, again, releases the tension with this joke. So, that's "push-pull 1." Moving on, now, to a second example of what "push-pull" looks like, you can see it here. There's the pull, right? And that's kind of what you can expect is that the pull gets, "Oh, thank you.
" "Oh, that's sweet." And when you do the push, it's that release of tension, the laughter, and what the push does when people laugh–I've talked about this in previous videos–when people laugh, it almost opens the floodgates to accept everything that happened before.
So, if you're in conversation with someone you're arguing and they can make you laugh, there's this sense that you have tacitly accepted their point, which is so frustrating, which is why people really try hard not to laugh when they're arguing. And what he does here is he makes his compliments sync in more effectively by following them up with stuff that is funny–the push that makes her laugh. Switching up gears for a minute, you've got Craig Ferguson, here.
Now, he is very, very, very light with the pushes. This is a different angle, and you'll see, he, oftentimes, talks about how beautiful the women who call him on his show are, and the way that he deals with that is it varies from clip to clip, but you'll see something pretty particular, here, that we'll talk about once we've gone through it. So the first was the pull, "You've already done that," the spell, right? And she giggled a little bit because it was sweet.
And now he's starting to move away from her.
And this is all very complimentary under the subtext, but he's physically moving away from her saying that they can't be together. Watch, and now she, like playingly, jokingly, obviously. So, that is another clear example of push-pull. The push is way softer there, but again; if you just go with straight up regular compliments, which I, sometimes, see you, guys, do in bars, and let it sit, don't redirect the conversation. Don't follow-up with a push.
Don't take it somewhere else. It can feel kind of heavy, like there's too much tension in the air. The entire idea of cracking a joke afterwards, or moving away, or using the push-pull together, is that it makes things stay light while still demonstrating your interest. So here's another one of Craig Ferguson. Again, his pushes are very light.
Often time, what he does is just makes a joke after his compliments, that sort of undermines them, and it's funny, and again, it gets those floodgates to open, and the compliment hits very hard. And so, what he does is he makes light of that first joke, "So, I'm also this." It makes her laugh a lot.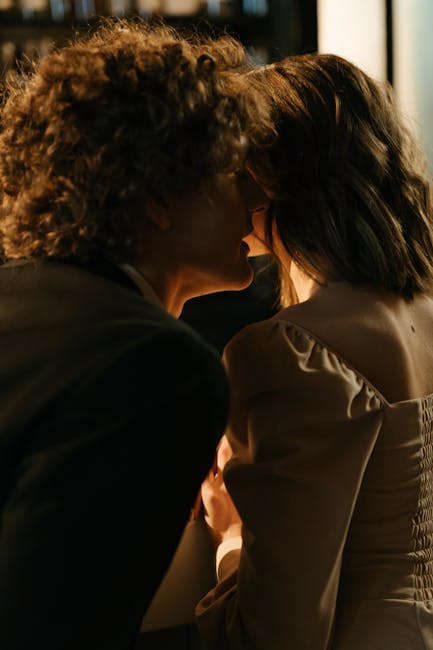 The pull, obviously, the first part, but he does kind of take away the intensity of that initial compliment where some guys, sometimes, will just pile on "Oh, you're really so beautiful." I don't even want to get into this story, but I've seen it happen where it gets bad.
And I want to play this back one more time.
This is kind of separate from what we're talking about, but Craig is very, very deliberate in his delivery, right? He takes his time and you can see her waiting to see what he's going to say. Right here, she's like listening very closely for what he say because he preps it as "This may come as a surprise to you." So, moving along now.
.. See, obvious, compliment, pull…
And, again, so he doesn't necessarily push but he does kind of deflate that initial compliment by, you know, whatever "I'm a Scotsman. If I can see teeth I think it's amazing." Rather than piling on her wonderful, sparkling and shiny, which he could, that is a separate direction. Really, the important point here is that when you compliment a woman, you want to continue to take the conversation in some direction, right? What I see a lot of people do that is not good is they want a girl to like them.
They might walk up.
They might say something nice, and they either get a little bit nervous about saying it, so they sort of just wait there afterwards, or they pile on in a very needy way. As long as you're leading conversation after that, you're going in a better direction than just sitting there, waiting for her to respond to your compliment, right? So you can push afterwards, you can take conversation in a new direction. It's a lot of options there.
That is, really, the underlying key to this and this push-pull is just one aspect of it. So, just to recap, this is just one of many tools that you can use when you're flirting. You do not have to use push-pull. It's just one thing that you might want to add. Secondly, I forgot to add this, but you do not have to use a push after every single compliment.
In fact, this is going to be most useful towards the beginning of interaction with women that you have not yet gotten to know.
And the reason is that most men, when they're going up to them, are just lavishing praise and compliments on them. You, actually, separate yourself by being more fun and funny and challenging and joking after any sort of compliment. But, remember, the compliments are important because they are letting her know that you are interested. So, if you found this helpful, and if you've ever found yourself hesitating to walk up to someone that you might be interested.
I've created a video that has the three things that I use 95% of the time when starting a conversation with a woman. This is a way to do it without being creepy or weird, and I use them in bars, clubs, when walking on the street. They're helpful in all sorts of situations where you kind of just freeze because you want to talk to her but you don't know what to say.
So, if you want to get that video, go ahead and click the link that pops up now. It will take you to a page where you can drop your email, and you'll get that video immediately.
I hope that you, guys, have liked this. Let me know if this is something that you're interested in. I can do more of these breakdowns.
Read More: How to Talk to Girls (and Get Her to Like You) – Say THIS and She WILL Chase You HARD!
Read More: 6 Ways to Flirt with Women