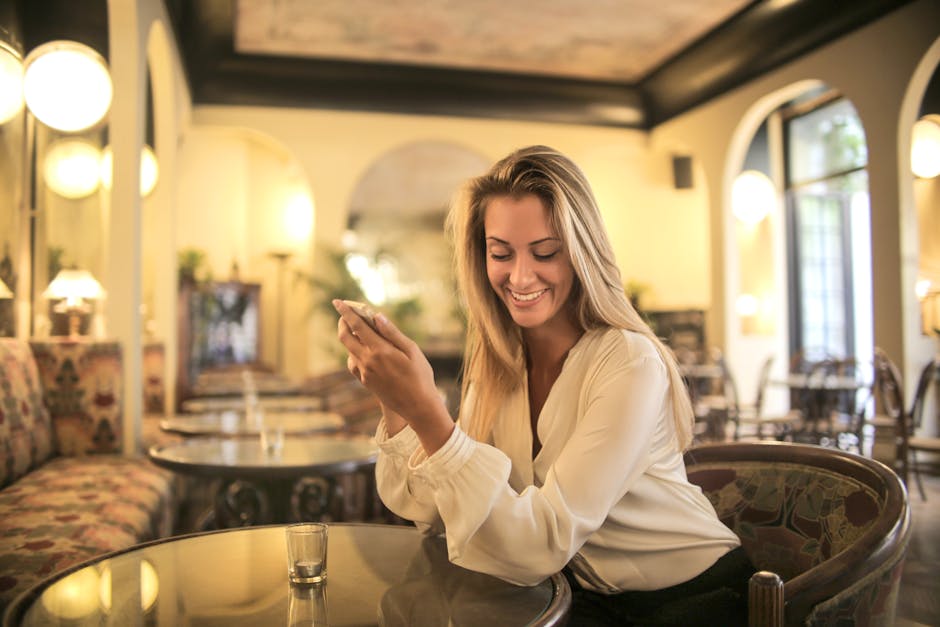 How to text a you like holla, beautiful people? How are you doing again how you doing today? It'S your girl, Vivian, I'm back again with another one, if you clicked on this video. That means you already know what we're gon na talk about today. So you like that girl right and you don't know how to text her right and you click on this video to learn how to text a girl.
You, like, don't worry, don't worry. I'Ve got your back. I'M gon na give you the best tips to help you achieve you goal. Let'S get into it. I can stay like this forever following you, it's hard enough to text a girl in general talkless of texting, a girl you like, if you're not doing it right.
You might end up like this crickets, no reply, nothing! Anyone who say don't play the texting game is a big liar chatting dodo. When I say texing game I mean when you are texting, a girl or guy that you like, and you wait a few minutes or both of you wait a few minutes or even an hour to reply the text. So you don't look desperate. We all do it.
A few days ago I was doing my research. I was just going through Google as usual, and then I came across this article with said, you should wait at least two to three days before texting, a girl you like, or something like that, and I was thinking like what are you talking about? What the hell are you actually talking about that is bullshit? Do you think the girl is going to sit there patiently waiting for you to text her? I don't think so.
So this brings me to my first tip, which is text within 24 hours. After getting her number at least 24 hours, you can even text her straight away, she's not going to think you're, desperate, she's going think like. Oh my god, he really fancies me. He really likes me. That'S why he texted me straight away.
If I give a guy. My number – and he waited three days or even more than 24 hours to text me – mate block As soon as you text me, I'm blocking you like, I do not have time to wait. If you like me, you need to show me that you, like me, my second tip, is you need to have a goal? Why are you texting her? What are you trying to get from Texting?
Her don't be texting. Her blabbing, baby boy nobody's got time for that darling. Stop it. If that's what you were doing before now is the time to stop it. Are you texting her to try to get a first date?
Are you texting her to try to arrange a second date always have an aim, and for that you can text us something like this. My third tips is: do not text that every day do not text her every day. Please don't do that. She doesn't care what you had to eat today. Do not text her telling her what you've been doing all day or what you had to eat today.
At the start, she doesn't give a shit about that. To be honest, girls can easily get bored of men who pest them. Okay, so number four, I know I said, do not text her every day, but that doesn't mean you shouldn't text her at all. Just because I say do not text every day doesn't mean you should just blank her and don't text her for weeks. No, we want to keep the momentum going.
You want to keep the connection. We want to keep you building the bond. That being said, do not over text her okay, my number fifty tip is, do not be afraid to tease her every girl liked it to be teased. Every girl like to be flirt with so do not be afraid to tease her don't be too uptight. Darling uptight people are boring, so now is the time to use imojies like this to show that you're not too boring that you're not too uptight that you can be fun and loosen up an example of the kind of text that I'm talking about.
Is this my sixty tips for you is to text her with proper grammar? Do you know how annoying it is to get text from someone? You don't even know like you're, just getting to know and they're sending you some weird messages that you don't even understand and instead of writing this yeah, they write you something like this. How annoying is that? How boring is that?
I don't even understand what men who do this are thinking, but no, please do not do that, maybe when you've gotten closer to each other, you've gotten to know each other for a long time. Maybe then you can do something like that, because then it doesn't even matter people don't notice things like that anymore, but at the beginning please do not do that. My number seven tip is to text her the way she texts you but avoid using too much emojis. Imagine if this happens to you, the guy, the guy saying something like this to you like, and then you as a lady, you Reply like this and then you ask him a question like. Oh what about you?
How was your day he comes up with something like this: how annoying would that be? No, you just tell me really: how annoying would that be? You took your time to write back and then explain yourself in the conversation, and then he replies in a dry in a very dead way. It is boring, boring nobody wants to be with a boring guy. Nobody wants to get to know a boring guy.
Thank you. So much for watching this video guys, as always, I'm so grateful, there's only so much. I can teach you on this video or there's only so much. I can tell you on this video, but if you want to learn the ultimate texting guide, if you want to be a master at text, then I want you to click the link below to get your ultimated texting guide. It will teach you everything you need to know guys, listen if you're able to get a number.
If she agrees to give you her number, that means she fancies you. That means she thinks you're attractive. That means she probably wants to see you. So if you're able to get a number, then you are able to get a date.
Article source:
Read More: How To Know If A Girl Is DTF